A Chinese buyer paid $25 million for Australia's most expensive apartment, a Melbourne penthouse taking up the entire 100th floor of Australia 108. The building will be the southern hemisphere's tallest building when construction is completed in 2019. At 319 metres, the penthouse will be the highest dwelling south of the equator.
Another Chinese buyer paid $10.5 million for a penthouse in Sydney's Greenland Centre, which will also be its city's tallest residential tower.
Despite all this, Australia is not one of the 10 countries where Chinese spend the most on average for property.
The first country on the list is the Caribbean paradise of Saint Kitts and Nevis, where Chinese buyers look at property with an average price of $11.9 million.
Also on the list are Indonesia, Monaco, Saint Barts, Fiji and Jamaica.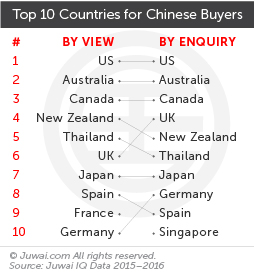 In some cases, Chinese buyers pay more for a home in Australia than in these countries – but Australia also attracts many buyers at other price ranges.
When you add together tens of thousands of buyers in the low and medium price ranges, along with a smaller number of buyers in the high price ranges, you get an average price for all of Australia that is $547,000. (AU$1=USD 0.77)
It's interesting to note  the average Chinese price is significantly above the overall mean price of residential dwellings, which is $441,000.
So, no, Australia is not one of the countries where the Chinese buyers pay the most on average for their second homes.
Pimpama – Australia's fastest growing suburb